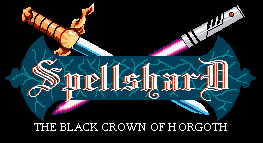 Welcome!

Spellshard: The Black Crown of Horgoth is a free 8-bit retro RPG. Inspired by classics like Final Fantasy and Dragon Warrior, it takes the player on a classic role-playing adventure where you'll sail on pirate ships, explore ancient tombs, and venture deep into the most nefarious citadels of evil to revive your fallen world. Download it today and start playing right away!

Spellshard features:
- More than 40 hours of classic RPG gameplay!
- 48 heroes to choose from, with unique special abilities!
- Wicked foes that counter your every move with thrilling strategies!
- 8 blazin' megs of ROM bring a truly massive world to life!